Customer appreciation program "Everyone has a gift – Home entertainment - Repel Corona" from March 23, 2020 to April 30, 2020 is a gift of FPT Television to millions of customers across the country.
 
As the situation of acute respiratory infections caused by Covid-19 virus is complicated in our country, the government and authorities recommend that people should stay indoors, and if there is no emergency, it is best not to get out at this time.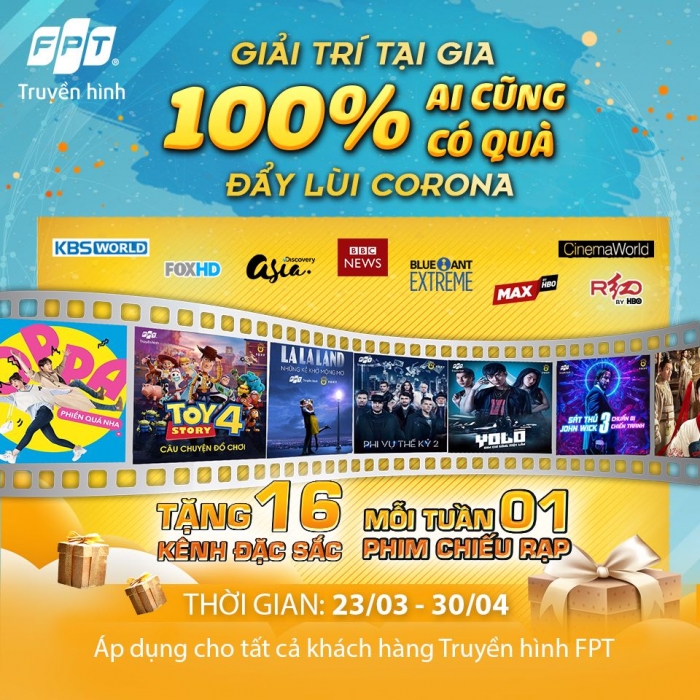 With the goal of accompanying millions of Vietnamese families when limiting the time going out because of the Covid-19 epidemic, FPT Television offers all its customers a appreciation program worth hundreds of billion Vietnam dong from March 23 to April 30 with the following interesting content:
 
- Give customers who are using Basic package 16 additional special international TV channels, including 7 HD channels which are the most popular like Fox HD, Red by HBO HD and Blue Ant Extreme HD, etc.
 
- Give every customer a free movie every week with interesting content and be nominated for the best movie.
 
Ms. To Nam Phuong - Director of FPT Television Service Center shared: "Understanding customers are worried and upset when they have to limit the time going out for entertainment at this time, we hope the program is an appreciation gift sent to millions of customers to entertain and join hands to fight the disease with FPT Television. The colorful entertainment channels, the most interesting movies, and the funny reality shows will bring comfortable, relaxaing and full of laugh moment at the customers' home."
 
Specifically, with the motto "Everyone has a gift, no one is left behind", customers who are using the Basic package of FPT Television will be given an additional 16 special TV channels such as Baby TV HD, Fox HD, Discovery Asia HD, Warner TV, RED by HBO HD, Cinema World, KIX HD, FBNC, CNBC, CNN, BBC News, BBC Earth, BBC Life style, KBS World and finally the two most famous general entertainment channels Blue Ant Extreme HD and Blue Ant Extreme HD.
 
Moreover, FPT Television has completed the procedure to buy the copyright of a series of the best movies to give to all customers in the coming time with a frequency of 1 movie per week. To surprise customers, the names of the movies will be kept confidential and announced at the beginning of the week. Please do not forget to regularly follow the fanpage and website of FPT Television to update the latest information.
 
Customer appreciation program "Everyone has a gift – Home entertainment - Repel Corona" will be automatically updated on the system from March 23 to April 30, customers do not need to do anything to receive this gift. If you have any questions, please contact FPT Television via holine 1900 6600 for the quickest support.