From February 28, 2020, in order to bring Close customers more experiences and utilities, FPT Telecom will launch "Refer friends" program with many interesting and creative things.

Accordingly, all current Customers who are using FPT TV and Internet services will be provided their own referral code to participate in the "Refer friends" program.

Not only each customer when successfeully referring a contract will receive a promotion up to VND 200,000 but their friend (the referred) also receive VND 200,000 along with other big promotions.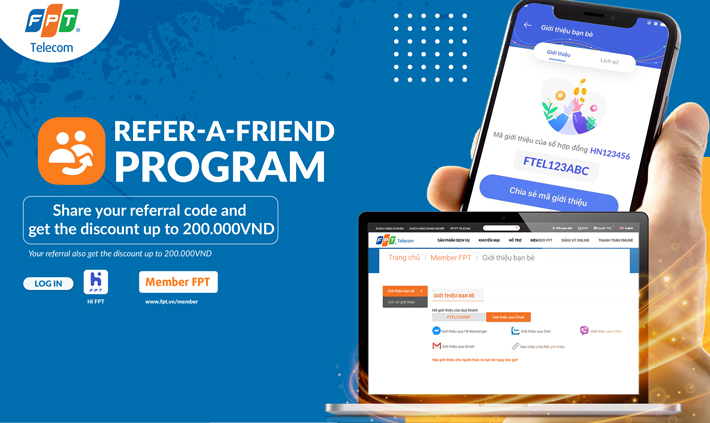 WAYS TO REFER AND REGISTER
First, to get the referral code, customers can access Refer friends on FPT Member's website at the link https://fpt.vn/member/vi/referral#/ or on the Hi FPT application. Simultaneously, FPT Telecom will also send a referral code to each customer via Email.
Next, on Member/Refer friends or on Hi FPT, there already have been the introduction content template, introduction channels such as email, Gmail, SMS, viber, Zalo, or FB Messenger for customers to easily introduce. In addition, customers can use any other form or referral channel to share their referral code to relatives and friends.
Finally, when a friend or relative of a customer receives a referral code, please use that referral code to register for FPT Internet and Television services through the following channels:
- Online registration with entered Referral Code: http://fpt.vn/shop?ref=[referral code]
- Online registration:
https://fpt.vn/shop
- 24/7 Registration and Customer Service Center: 1900 6600
- FPT Telecom's transaction offices:
https://bit.ly/2vlTW4J
- FPT Telecom's sales staff nationwide
When the referred uses the Referral Code to complete the contract registration and the contract is successfully implemented, the customer will receive notification via email and Hi FPT. The discount will be deducted from the fee as stipulated in the Policy.
According to FPT Telecom's Strategy and Planning Director - Mr. Nguyen Phu An: "This is not only an attractive promotion program but also brings customers new experiences and utilities when the way of referring and registering is very simple and easy with just a few operations on your computer or phone.
This is the first time such program appeared in the telecom networks in Vietnam. This is also an effort that FPT Telecom desires to bring different, convenient, timely, and necessary digital experiences to customers in the current prevention period of Covid-19".
More information about the program:
https://fpt.vn/vi/khach-hang-ca-nhan/ho-tro/ho-tro-thong-tin/huong-dan-su-dung#7
24/7 Customer Service: 1900 6600