FPT Telecom's effort in adjusting a series of human resources policies in 2019 has created positive changes.
 
Various human resources policies were adjusted in 2019 through the efforts of the member companies and FPT Telecom, a key player in the information technology industry.
 
As a result, FPT Corporation was named the Most Attractive Employer in the IT field by a survey conducted by Anphabe, an Asian human resources consultant, with the participation of more than 23,000 students from 93 major universities nationwide.
 
FPT Telecom is now focusing on developing human resources for the technology sector. Many activities for potential technology candidates have been periodically implemented, such as the "Internship for Technology Student" and the "Future leader" program, according to Ms. Le Bich Ngoc, Deputy Manager of Recruitment and Development of Human Resources of FPT Telecom, FPT Telecom.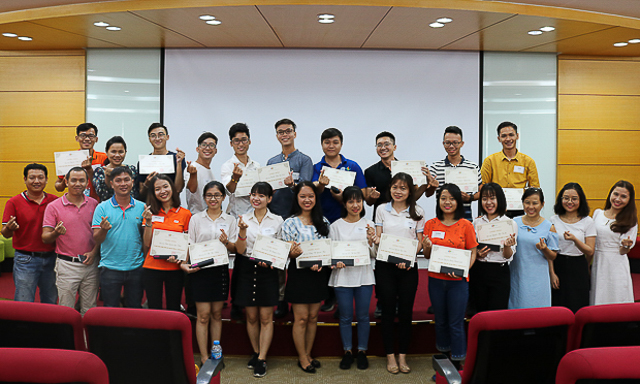 Trainees are excited about FPT Telecom's training programs.
 
 The company recruits IT or telecommunications students while they are still in school, and provides support or training for them for official positions after graduation. At some universities, FPT Telecom has a team of Recruitment Ambassadors including excellent students who can help promote the company to the students nationwide.
 
After the recruitment process, students will directly take part in FPT Telecom's key projects in the form of paid internship. The most interesting thing is that these young students will be able to participate in the master-student training model. The masters are the unit leaders or level 3 or higher officers. They will be the closest people to the students, instructing, and mentoring them to adapt well to the working environment and become the company's official employee later.
 
The trainees will periodically be able to join in seminars and meetings with FPT Telecom Deputy General Director Mr. Vu Anh Tu or Director of Technology Tran Thanh Hai to discuss topics on technological innovation. The awards are given to centers and units with high staff retention rates and good internship performance. This encourages the unit in mentoring, guiding, and retaining students.
 
Besides giving supports to students from information technology and telecommunications schools, FPT Telecom also provides scholarships to students with good performance from other schools in the form of cash donations and training courses of FPT Telecom training centers.
 
The training programs for 30-40 students can last for 2-3 days with classes on practical skills, career orientation, life skills, etc. These programs also help FPT Telecom to be more popular with students.
 
FPT Telecom also focuses on developing branding through online platforms. The company uses the main channel, the FPTJobs website, which was built in 2016. The made-by-FPT Telecom website has received the Sao Khue title for new technology application products.
 
Through FPTJobs, candidates can apply, take the tests, and conduct interviews online with the device, or the employer. FPT Telecom has saved nearly 50% of the time for data entry, interview scheduling, and candidate screening.
 
FPT Telecom also has its own social media channels such as Facebook, Youtube, Tik Tok, Workplace ... as recruitment channels, providing clear information about the company's field of business.