The complicated situation of Covid pandemic has made it difficult for companies to maintain operations because customers refuse to continue using the service for many reasons. However, many service providers also know how to take opportunities, turning difficulties into a chance to promote customer service and provide intelligent utilities right during the pandemic season.
 
From March 25, 2019, Hanoi has shut down all non-essential services including cinemas, clubs and bars - crowded places to prevent the risk of complicated infection during the Covid pandemic season. Earlier, citizen in Ho Chi Minh City also said a temporary "goodbye" to crowded places to comply with the closed rules issued by the authorities. Many restaurant owners, businesses and companies are in difficult situations because they cannot provide services to customers.
 
The fact that customers refuse to go to the transaction office to avoid going out; customers cancel the service because the utilities are no longer attractive enough and do not fit the needs of customers in the pandemic, happens more frequently. All activities were delayed and service providers are "struggling" to find solutions to keep customers. So what is the solution for businesses during this time?
 
Difficult to keep customers due to "afraid of contact" feeling
 
Understanding customer is optimal in all situations for any service provider, but in the context of pandemic, businesses need to have a sensitive and flexible view to "please" customers promptly. The "afraid of contact" feeling during the pandemic is understandable when the Ministry of Health advises people to restrict comingto  crowded places if there is no urgent business, which leads to customers being afraid to go to the transaction office where many people come and go during the day.
 
Transactions using cash also make customers feel "afraid" because cash is transmitted by many people's hands, easily increasing the risk of virus infection. The reason seems small but greatly affects the decisions of customers, causing the disruption of many businesses' operations.
 
The solution to this "afraid of contact, afraid of holding money" feeling is online transactions, to ensure peace of mind for customers from the risk of infection while maintaining service. A proof for that is the Hi FPT application built and developed by FPT Telecom Joint Stock Company, a smart application exclusively for customers who are using the services provided by the company. With just a few steps to enter information, customers have the flexibility to pay for monthly Internet and TV charges quickly and simply. Customers can also send quick technical support requests, remote modem control and Internet speed test through this application.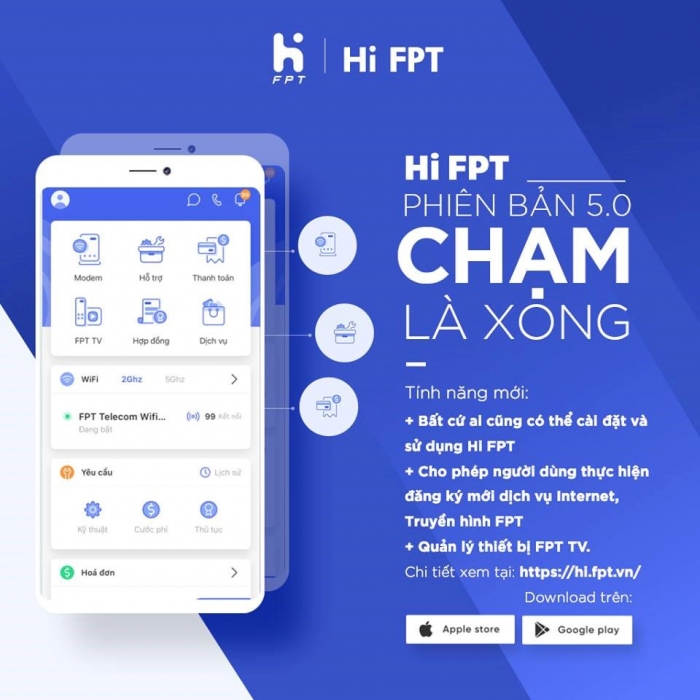 In times of disease, applications connecting businesses and customers like these prove their advantages. This is considered an "important" card, successfully contributing to keep customers.
 
Invest in the experience of customers
 
When the pandemic lasts for a long time, many customers share the feeling of inconvenience and insecured because their children must stay at home and cannot go to school. When the parents are at work, they cannot constantly call and control whether their children watch TV too much and forget to do homework or not. These facts make service providers to think about how to give customers the peace of mind experience during the pandemic.
 
Providing surveillance cameras at the time of pandemic is a wise step for many providers, in line with the needs to monitor children when parents come to their offices. Typical products for this service line are IP Camera provided by FPT Telecom, with information storage and device management on cloud computing platform, users can monitor the situation at home through electronic devices easily. Currently, the trend of integrating Cloud computing into security camera products to enhance data storage and security for customers is highly appreciated by its intelligence and flexibility to support customers at anytime.
 
If still not comfortable with children's safety at home, customers can come to the assistance of smart intrusion warning devices. Currently on the market, iHome is one of the devices with reasonable price and is highly appreciated for its sensitivity in all test cases.
 
If just 'pleasing' customers with basic needs during the pandemic such as ensuring health and safety, businesses can not impress the them. In order to achieve "excellent" score, suppliers need to improve to give customers a new and different experience.
 
Typically, viewers can only customize the channel, choose the program they want to watch on TV, but actually they need more features than that. Viewing angle adjustment (multicam) is a feature that first appeared on TV through Music Home. When watching this program, customers can choose the viewing angle according to their preference through the remote control. Viewers can enjoy the music program proactively and no longer have to sit and watch what is already shown as before.
 
Entertainment is a field heavily invested by many suppliers during this period due to the increasing number of people at home. Programs with interesting content, Korean and American movies are now even more popular with viewers. Besides, the educational aspect is also selected by many interested customers to choose for children to watch and learn at the same time. The service of FPT Television recently has been mentioned by many parents with a variety of entertainment features, large movie stores, in addition to the function of selecting programs according to the age suitable for children and the "review" feature also makes it easier for students and parents to keep track during the season, especially in online classrooms. With just one service, FPT Television meets the needs of both parents, grandparents and children.