From March 26 to March 29, FPT Television will open 10,000 free Foxy accounts to give viewers many opportunities to experience and enjoy the 'Internet Theater' Music Home while staying at home to avoid pandemic.
 
After the success of season 1 and the first show of season 2 with the appearance of singer Hoang Thuy Linh and guest T.R.I, the 2nd show of Music Home - Home Theater will take place at 8.30pm on March 27, 2020. The special character of this show is singer My Linh with the newly introduced factor Kieu Loan.
 
In the live show with the theme "Song book" this time, instead of singing the songs that have been prepared with the Brothers band like the previous shows, My Linh will sing randomly at the request of the audience. This is also the first "on-demand online night show" in Vietnam.
 
A special feature of this show is that in order to ensure the best image and sound quality, FPT Television will only broadcast Music Home on Live and Foxy mobile application.
 
In order to provide the best experience and more opportunities to enjoy the "home theater" Music Home, FPT Television will open 10,000 free accounts on Foxy mobile
application to serve the audience on March 27, 2020. And viewers can send the song request to singer My Linh on the FPT Television fan page by inboxing or commenting on the post here from March 25 to March 27.
 
To get a free account, customers need to install the Foxy app on smartphones, register for an account, then select the "Trial" section and enter the activation code "270320". With each free Foxy account, customers can enjoy the 2nd show of Music Home at 8.30pm on March 27.
 
Music Home is applied interactive TV technology with the option of viewing angle (Multi-cam). The audience can adjust the screen by selecting the angle of the camera and experience the real space like watching live at the show.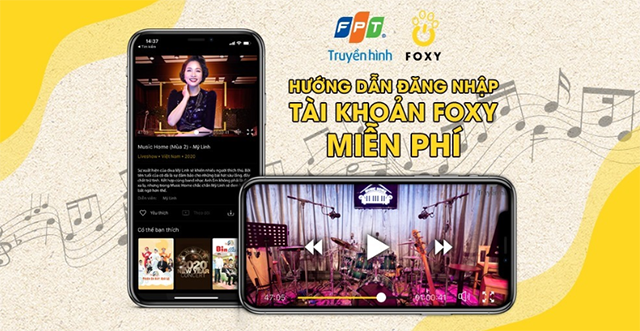 FPT Television offers customers 10,000 free Foxy accounts.
 
Regardless of the way the audience accesses Music Home: phones, tablets or TVs, the quality of the audio stream will always be guaranteed to be at the optimum level.
 
Previously, FPT Television also gave special offers to customers during the Covid-19 season with appreciation program "Everyone has a gift – Home entertainment - Repel Corona" from March 23 to April 30. Customers who are using the Basic package of FPT Television will receive 16 additional special channels such as Baby TV HD, Fox HD, Discovery Asia HD, Warner TV, RED by HBO HD, Cinema World, KIX HD, FBNC, CNBC, CNN, BBC News, BBC Earth, BBC Life style, KBS World and finally the two most popular general entertainment channels Blue Ant Entertainment HD and Blue Ant Extreme HD.
 
Foxy is a mobile application that helps customers watch FPT Television through mobile devices including smartphones and tablets. Previously, customers could only watch FPT Television via TV screen, but Foxy application has solved that problem thoroughly. Viewers can watch their favorite shows anywhere without being interrupted.
 
Instructions to register a Foxy account - watch Music Home for free:
 
Step 1: Download and open FOXY app 
Step 2: Select REGISTER
Step 3: Select CONTINUE then TRIAL  
Step 4: Enter activation code 270320