On the occasion of Lunar New Year 2019, FPT Television brings spring to every home with a new channel package but the price remains unchanged.
 
Basic package – new channels, free upgrade to HD. 
 
The Basic package of FPT Television includes a wide range of favorite channels such as VTV, HTV, VTC, general channels, entertainment, animation, sports, music, film, science, education, news, lifestyle, fashion, local channels and other specialized channels.
 
Especially from February 12, the spring gift from FPT Television to customers is that 9 new channels and free upgrade to HD quality for 10 other channels will be added to the Basic package.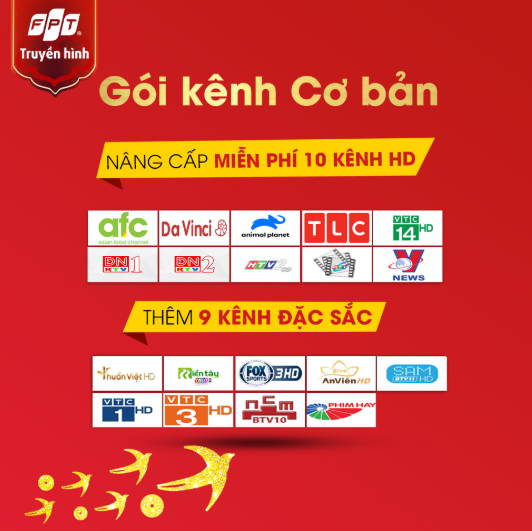 Accordingly, the new channels added to the Basic package include Fox Sports 3 HD (position 39), HTVC Thuan Viet HD (position 58), VTC1 HD (position 75), VTC3 HD (position 77), An Vien HD (position 89), Phim hay (position 90), NCM (position 98), SAM (position 99), and Mien tay (position 101). These are the hot channels that were exclusive for the Advanced packages, but now shared for the Basic package.  
(More information about the Basic package can be found
here
)  
In addition, in order for the audience to enjoy the best picture quality, FPT Television continues to give FREE upgrades for many channels to HD format. The channels upgraded to HD in this promotion include: HTV2 (position 10), Asian Food Channel (position 33), Travel & Living (position 35), Da Vinci (position 47) ), Animal Planet (position 48), VTC14 (position 87), Vnews (position 97), HTVC Film (position 111), Dong Nai 1 (position 136), and Dong Nai 2 (position 137).  
The audience can freely entertain and watch their favorite channels with the best quality without any extra cost. This is a deep gratitude of FPT Television to the customers.  
Advanced package – more channels, free hot movies each month
Customers of the Advanced package can view all the channels of the Basic package and exclusive channels just for this package such as Fox HD, Discovery HD, Red by HBO HD, KIX HD, CNBC, and BBC News, etc.  
(More information about the Advanced package can be found
here
)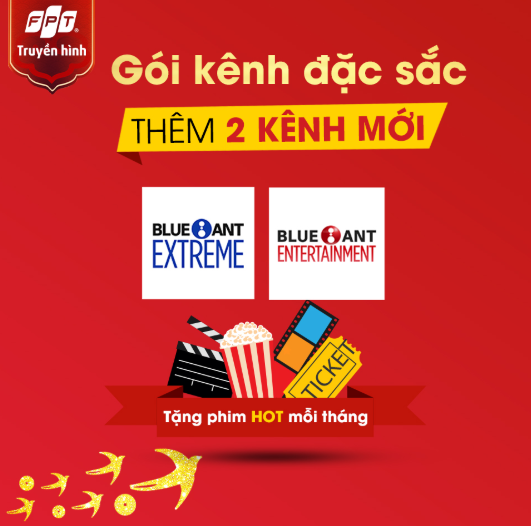 In order to bring to the audience moments of new and exciting experiences, the two new channels Blue Ant Entertainment HD (position 68) and Blue Ant Extreme HD (position 69) will join the Advanced package.
 
Blue Ant Entertainment HD is a comprehensive entertainment channel with the most attractive daily TV shows, movies, comedies and entertainment programs, hot movies on the same day with the US and UK, and the world's greatest talent contests such as America's Got Talent, Britain's Got Talent and The X Factor UK, etc.
 
Moreover, this is also the channel to broadcast live the world's leading awards such as The Golden Globes, American Music Awards and Billboard Music Awards, etc.
 
Blue Ant Extreme HD is also a general entertainment channel, but it is inclined to adventure sports, reality shows, famous gameshow, favorite action programs like Deadliest Warrior 2.
 
In addition, customers of the Advanced package also get many more special privileges such as getting 1 FREE blockbuster every month.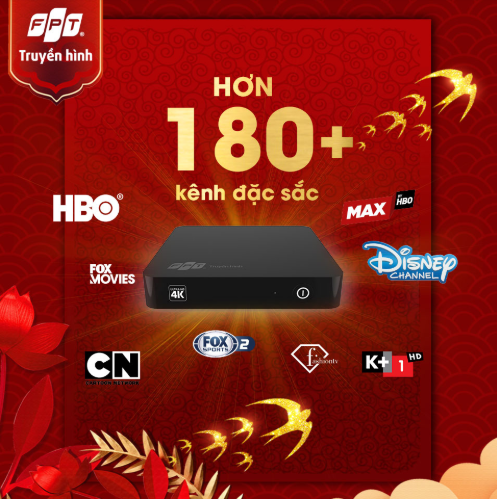 Thus, with this upgrade, FPT Television will have more than 180 channels with full of attractive entertainment content. With the changes in the Basic and Advanced package, the customers will have truly uplifting and happy moments of entertainment. We wish you a prosperous new year.
 
For more information, please contact hotline 19006600.