FPT Telecom deploys AWS Direct Connect transmission system via FPT Cloud Connect service for VPBank. 

Established on August 12, 1993, being one of the earliest-established Joint-stock Commercial banks in Vietnam, Vietnam Prosperity Joint Stock Commercial Bank (VPBank) has achieved steady development throughout its history. In 2020 VPBank became the first private bank in Vietnam to be included in the top 300 valuable banking brands in the world rating, ranked by Brand Finance. VPBank has set an ambitious target of becoming the most consumer- friendly technology- driven bank and among Vietnam's top 3 most valuable banks by 2022.

In order to achieve such an ambitious goal, VPBank partnered with one of the leading telecom and IT services providers in Vietnam – FPT Telecom International.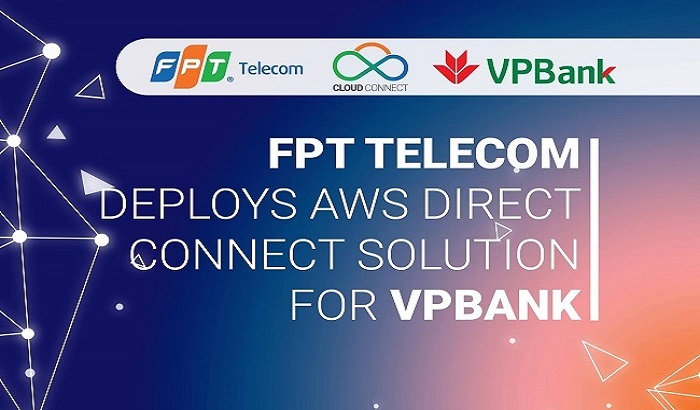 Telecom International is a member company of FPT Telecom – Vietnam's leading telecommunications company. Established on May 22, 2008, FPT Telecom International is one of the most comprehensive and broadly adopted Cloud and IT services providers in Vietnam, offering a full spectrum of services nationwide. Thousands of customers — including the fastest-growing startups, largest enterprises, and leading government agencies — use FPT Telecom International to transform their businesses, become more agile, innovate faster and optimize their costs.

With the leading orientation in deploying information technology services for VPBank's banking system, VPBank realized the importance of cloud trend adoption in their business field and chose to benefit on that trend by connecting to leading Cloud providers in general and to the AWS in particular.

Ensuring the stability, security and rapid growth, VPBank and FPT Telecom cooperated to comprehensively deploy the AWS Direct Connect transmission system via the FPT Cloud Connect service. In addition to deploying the system for VPBank, FPT Telecom also provides the AWS Direct Connect service for the FE Credit – a member company of VPBank.

With the newly upgraded infrastructure directly to AWS in Singapore, along with the experience and implementation capacity for customers in financial and banking sectors, FPT Telecom International provides customers with the AWS Direct Connect channel with the SLA up to 99.95%, an abundant and large undersea cable system in terms of bandwidth, as well as meeting the strict requirements for AWS channel protection. An available bandwidth for 01 customer that FPT Cloud Connect can meet is up to 10Gbps and go through AAE1, IA, APG undersea cables to Singapore.

In addition, FPT Cloud Connect of FPT Telecom International is also a comprehensive multi-cloud solution that can provide connectivity to other international and Vietnamese Cloud Service Providers as well as to other regions around the globe through the cooperation with international partners. 

Find more detailed information about FPT Cloud Connect here: https://cloudconnect.vn