You are enjoying a great service experience from FPT Play Box+ but you still expect more "great" incentives? Or simply you have not had the opportunity to own it. The last promotion of March will bring you that opportunity!
 
With the promotion program of attractive discounts and gifts, FPT Play Box+ has received the attention of a large number of customers in March.
 
Accordingly, customers who register to buy FPT Play Box+ equipment from March 1 to March 31, 2020 will receive a discount of VND200,000 and the new price of the product will only be VND1,590,000 and an additional bonus of 30 days free for the VIP package and 12 months free for the family package.
 
The family package will bring more experiences to all members with the most popular domestic and international channels such as VTV, HTV, HTVC, Fox Movie, Fox Family Movie, Fox Life, and Fox HD, etc. which are broadcast continuously 24 hours a day with diverse content from feature films, entertainment, sports, children, tourism – life, etc. to meet the entertainment and relaxation needs of all Vietnamese families.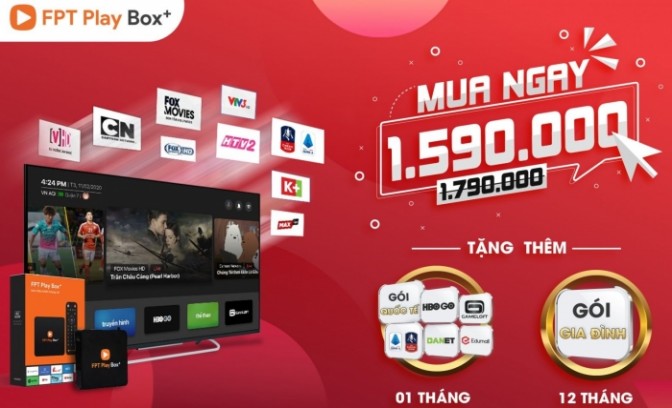 VIP package is the best service package for watching TV and movies on FPT Play: 62 special domestic and international TV channels are included in the paid channel package, along with nearly 100 free channels, live broadcast of FA Cup and exclusive copyright of Serie A - Italian football league (2018-2021), movie store and online series of HBO Go produced by Hollywood, China, Japan, and Korea along with thousands of free dramas and movies. In addition, the VIP package offers the privilege to turn off advertisements when watching movies on FPT Play during this period.
 
This is a "wonderful" shopping opportunity for customers who are in need of using FPT Play Box+ entertainment equipment. Quickly get yourself a FPT Play Box+ in March to receive exciting offers like never before.
 
With a simple interface, FPT Play Box+ brings entertainment and enjoyment of advanced technology using Android TV P operating system, allowing users to easily access the latest streaming channels and program suggestions are personalized to match the interests of family members.
 
FPT Play Box+ with many outstanding features
 
FPT Play Box+ is the first device in the world to use Android TV 9.0 operating system. Users can use FPT Play Box+ as a control center of smart home devices in the Google Home ecosystem. Moreover, with voice control with Google Assistant integrated, you can easily search for all your favorite entertainment content, daily planner, or simply use it as your personal weather forecast tool.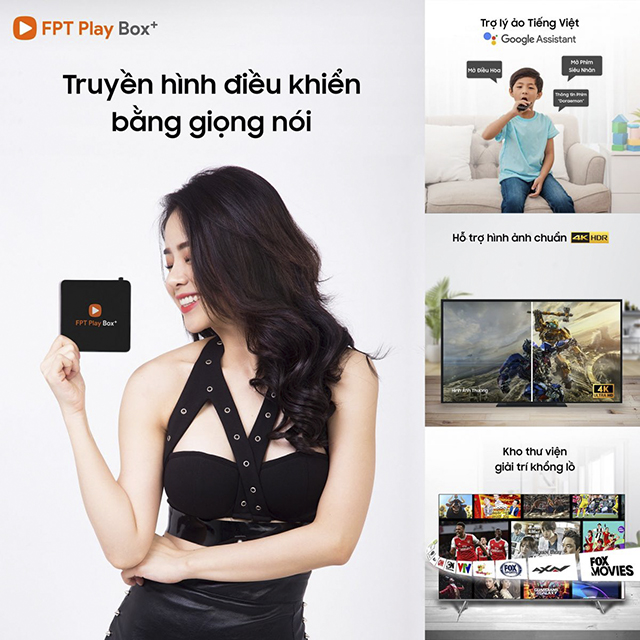 Programmed to recognize both Vietnamese and English, Voice remote not only allows inputting and controlling FPT Play Box contents such as searching TV channels, opening content, opening applications, but also allows searching for desired content with Karaoke and YouTube applications on FPT Play Box. Voice remote is suitable for most Vietnamese people thanks to the intelligent voice recognition technology which can identify the maximum of regional accents.
 
In an effort to bring super-sharp television to every family and capture the essential needs of users, FPT Play Box + has implemented a free upgrade of 39 TV channels from 720p to 1080p. Users of FPT Play Box+ can enjoy full HD picture quality with 16:9 aspect ratio even on the big screen and 5.1 audio standard.
 
In addition to the constantly updated content store that adds value to the product, the cooperation with Google in coordinating product launches on the Android TV platform is the advantage of the current FPT Play Box. Customers using FPT Play Box will be constantly receive updates not only from FPT but also from Google. These include Google Assistant, Chromecast, and thousands of apps in the Google Play Store.
 
The special feature of FPT Play Box is that through the Multicast feature, users of FPT Internet can watch interesting live content without delay, similar to traditional and faster than cable TV. This is very important, especially when watching the top matches of SEA Games, AFF Cup, Serie A, and Premier League, etc.