FPT and Mr. Pham Nhat Vuong - Chairman of the Board of Directors are 2 Vietnamese representatives recognized by Forbes in their efforts to fight the COVID-19 pandemic.
 
Forbes has just announced the list of Asian businesses and billionaires who have made outstanding contributions to the fight against COVID-19. Accordingly, FPT and Mr. Pham Nhat Vuong, Chairman of the Board of Directors of Vingroup, are two Vietnamese representatives recognized by this magazine as of April 19, with many meaningful activities to the community in technology field such as supporting equipment for epidemic prevention.
 
According to Forbes, as many individuals and organizations around the world, leaders and business companies of Asia have made great effort to combat the COVID-19 pandemic. They are helping control the outbreak of disease on the fronts, such as raising money or medical equipment; changing the purpose of using the facilities and business; increasing production of test kits or research into making vaccines.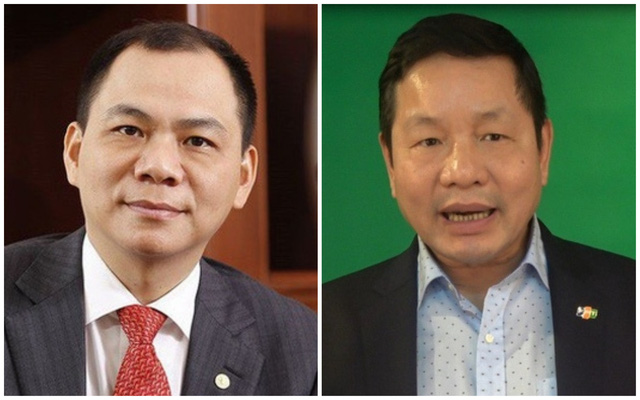 Mr. Pham Nhat Vuong, Chairman of Vingroup and Mr. Truong Gia Binh, Chairman of FPT
 
In terms of technology, according to information posted on Forbes, within 7 days, FPT has cooperated with the Ministry of Health of Vietnam to build and promptly bring nCov virtual assistant into practice to automatically provide information and answer all questions about disease. The virtual assistant is developed based on artificial intelligence application platform FPT.AI, capable of automatic and continuous answering in real time (24/7), allowing many people to ask questions at the same time about COVID-19.
 
In addition, FPT has many active activities, joining hands with the whole country to fight against the epidemic during this difficult period, such as free learning and doing homework in the Vioedu online training system when students nationwide cannot go to school. Until now, students of 15,000 schools across the country studied and reviewed over 90 million questions on ViOedu.
 
The company has contributed 20 billion VND to donate essential medical equipment such as ventilators, protective gear, N95 mask, medical mask, and nearly 600 health care packages (2 million VND/pack) to the frontline doctors in Hanoi, Ho Chi Minh City and many localities across the country along with supporting the quarantine area for 2,000 people at the dormitory in Hoa Lac.
 
At the same time, in order to contribute to solving common difficulties for the community and businesses, FPT has donated 3 months to use FPT Eagle Eyes information security monitoring and incident response service for small and medium enterprises, and raised 60% of total bandwidth for Internet users, etc.

"For FPT, people are the most valuable asset, and we are always willing to contribute the best to help the Government repel COVID-19 and protect the people. In our capacity, we want to contribute to protecting doctors on the front line and protecting public health, minimizing the possibility of spreading diseases, reducing the pressure of the Government and the City", said Mr. Truong Gia Binh, Chairman of FPT Board of Directors.
 
Not only honoring the businesses, the Forbes list also honored Asian billionaires and Vietnam has one representative, that is Mr. Pham Nhat Vuong, Chairman of the Vingroup. Mr. Vuong and Vingroup have contributed significantly in the fight against COVID-19 such as signing a licensing agreement with Medtronic, the leading US healthcare and medical device maker, to manufacture ventilators through its two subsidiaries. Automobile manufacturer Vinfast and electronics company Vinsmart are shifting their production lines to ventilators, which can reach 10,000 units per month.
 
In the Forbes list until April 19, other typical Asian businesses also appeared such as SK, Hyundai Motor (Korea), Fujifilm (Japan), or other famous Asian billionaires like Alibaba boss Jack Ma, real estate tycoon Li Ka-shing, Huawei boss Ren Zhengfei, and Indian tycoon Mukesh Ambani, etc.