Nowadays, when the demand for Internet is becoming an indispensable part in every family, anyone wants to use the best services, especially being able to "master" the technology equipment, user search and Internet security of their own families.

The story of "neighbors using your wifi for free" is probably not new for anyone who has installed Internet services at home. In general, anyone at any given time wants to be able to quickly "change wifi passwords" and "push" these users out of their home Internet.

How to manage well and "master Internet technology at home" is something that even young people feel confused when it comes to. Tran Hoai My, a female student who is studying in Quang Nam province, said: "Since I installed the Internet, I only know how to enter the password into the devices to use, even if I have been instructed by the staff, but if the neighbor uses my wifi for free, I still do not know what to do". Therefore, according to the sharing of Internet installion staff of FPT Telecom Quang Nam Branch, customers calling home support services for "changing passwords" happens very often.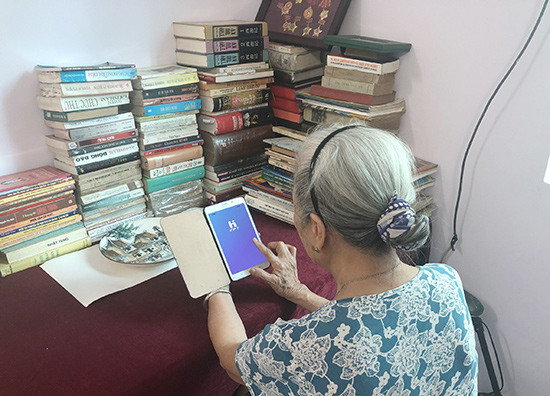 More and more seniors in Quang Nam actively learn about modern payment methods.
 
Understanding this, service providers have researched and built many applications to provide maximum support to customers, aiming to be able to help anyone even the elderly still can "master the technology". Hi FPT application has been developed by FPT Telecom in recent years, showing an effective and positive feedback from users because of its simple and easy-to-use interface. Therefore, customers do not need to be tech-savvy to be able to manage the Internet at their own families.

With integration capability, it is possible to install and use the app on the two largest mobile phone platforms today such as iOS (Iphones and Ipads) and Android (Samsung, Oppo, Xiaomi, and Vivo smartphones, etc.) Hi FPT only requires a smartphone to help users become a "master of technology at home". After Hi FPT is installed on the customer's phone device with the phone number registered under the service contract, customers will have full access to their home Internet system. The basic display information such as the family's IP Online address, the type of Wifi Modem in use, the operating status of the Modem and the Upload/Download speed of the network will help customers have the first overview of the Internet used at home.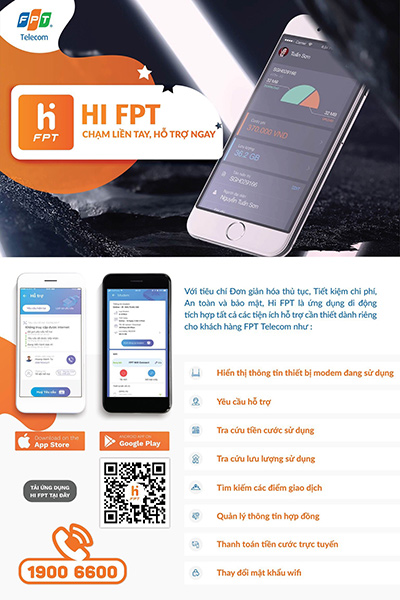 Hi FPT is a mobile application that integrates all necessary support facilities exclusively for FPT Telecom customers.
 
Besides are the functions that perhaps all customers want absolute to control with their home network, which are changing the display name and wifi network password, or checking the devices that are using your wifi. In Hi FPT application, if the function of turning wifi on/off is very suitable for customers who want to control the time of using Internet at home, the function of restarting the modem will help customers operate it more easily if the device is installed in a high position or in locations difficult to reach.

Hi FPT also has many other useful features. With the "Request for Assistance" feature, users can quickly report a network failure or request a query without having to search for a switchboard number to call as before. According to FPT Telecom, all requests for incident support will be received by the customer service team and technicians and solved within 1 hour.

Another feature is to allow users to pay Internet bills right on the application via VNPay payment gateway, supporting 15 banks in Vietnam. For customers who are using FPT TV service, they can also quickly view the broadcast schedule of TV channels on this system. The final feature is "Transaction Point", as the name suggests, helping users find the nearest FPT Telecom transaction point.

In order to evaluate Internet service providers, it is clear that an application on Smartphone is only a secondary factor to consider. However, with Hi FPT, FPT Telecom has recorded strong points on customer service - which is extremely important, especially when most of customers intend to stick with their ISP for a long time.

If any customer has been using FPT Television products, "Master the technology" is also a direct interaction with the MC and the program through interactive TV shows. Real-time interaction with the program content and even communications with the MC in live programming even while watching TV at home are several examples. In Vietnam, only FPT Television is currently using this technology for interactive television. In addition, FPT Television also provides more than 170 high quality channels and VOD program which is constantly updated to serve customers.

Recently, this network has also implemented the program "Planning bandwidth, increasing experience". As the name of the program, Internet service packages have been planned more neatly when all the old packages have been completely upgraded to 4 packages named Super 22, Super 35, Super 50 and Super 65. With the desire to bring customers a "Fast Internet" experience to meet the needs of customers in using the service, FPT Telecom increases the quality of outstanding international bandwidth, helping the access of customers in everyday applications like Youtube, and Facebook are much faster than before.
"Master the technology at home" is now not only a story of young people who are usually exposed to technology, but also the story of the elderly. By simple manipulations on the phone application, they can easily access to the general trend and directly experience the convenience and fun that technology brings to every family. Along with meticulousness and dedication, fixed telecommunication service providers such as FPT Telecom are bringing more and more value, not only in providing physical Internet connection for customers, but also in providing best experience for the customers.

Transaction offices of FPT Telecom in Quang Nam province:
1. FPT Telecom Hoi An:
Address: 540 Hai Ba Trung, Tan An Ward, Hoi An City, Quang Nam
Phone number: 19006600
Working hours: 8am – 5.30pm from Monday to Sunday
2. FPT Telecom Tam Ky:
Address: 511 Phan Boi Chau, Tan Thanh Ward, Tam Kyy City, Quang Nam
Phone number: 19006600
Working hours: 8am – 5.30pm from Monday to Sunday