Cryptocurrencies Trading Platform Provider MTX achieves 5x increase in transaction volume.
 
Singapore, December 11, 2019  – Equinix, Inc. (Nasdaq: EQIX), the global interconnection and data center company, today announced that its strategic partnership with Vietnamese telco provider FPT, has successfully propelled local Vietnamese companies to expand into overseas markets. This strategic partnership has supported blockchain-enabled cryptocurrency trading platform provider MTX to achieve its global expansion goals, as they take their first step into Singapore in the Southeast Asia market.
 
Vietnam's economy is set to expand as it continues its transformation into a global manufacturing hub. This is evidenced by the fact that in 2018, Vietnam outstripped Chinese GDP growth for the first time in nearly three decades. As Vietnam's economy matures, local businesses are starting to consider taking the next step in their growth and expand beyond the country's borders.
 
As companies move towards a multi-cloud, multi-technology and multi-collaboration oriented digital future, Platform Equinix® continues to emerge as an essential interconnection gateway for buyers and service providers. Having embraced Platform Equinix at multiple regional hubs worldwide, FPT has been able to build end-to-end Fully Managed Services including infrastructure, network, security, application, data, resiliency, scalability, migration, optimization and more.
 
This combined offering of FPT's connectivity and Platform Equinix provides local businesses, including MTX, with the regional and direct connectivity that they need to take their business abroad. By collaborating with Equinix and FPT, MTX is able to expand their business in Southeast Asia with its first expansion in Singapore. It also benefits from the high-speed and low-latency connectivity necessary for high-quality financial services, such as smooth and fast transactions of cryptocurrency, as well as instant order settlement on its platform.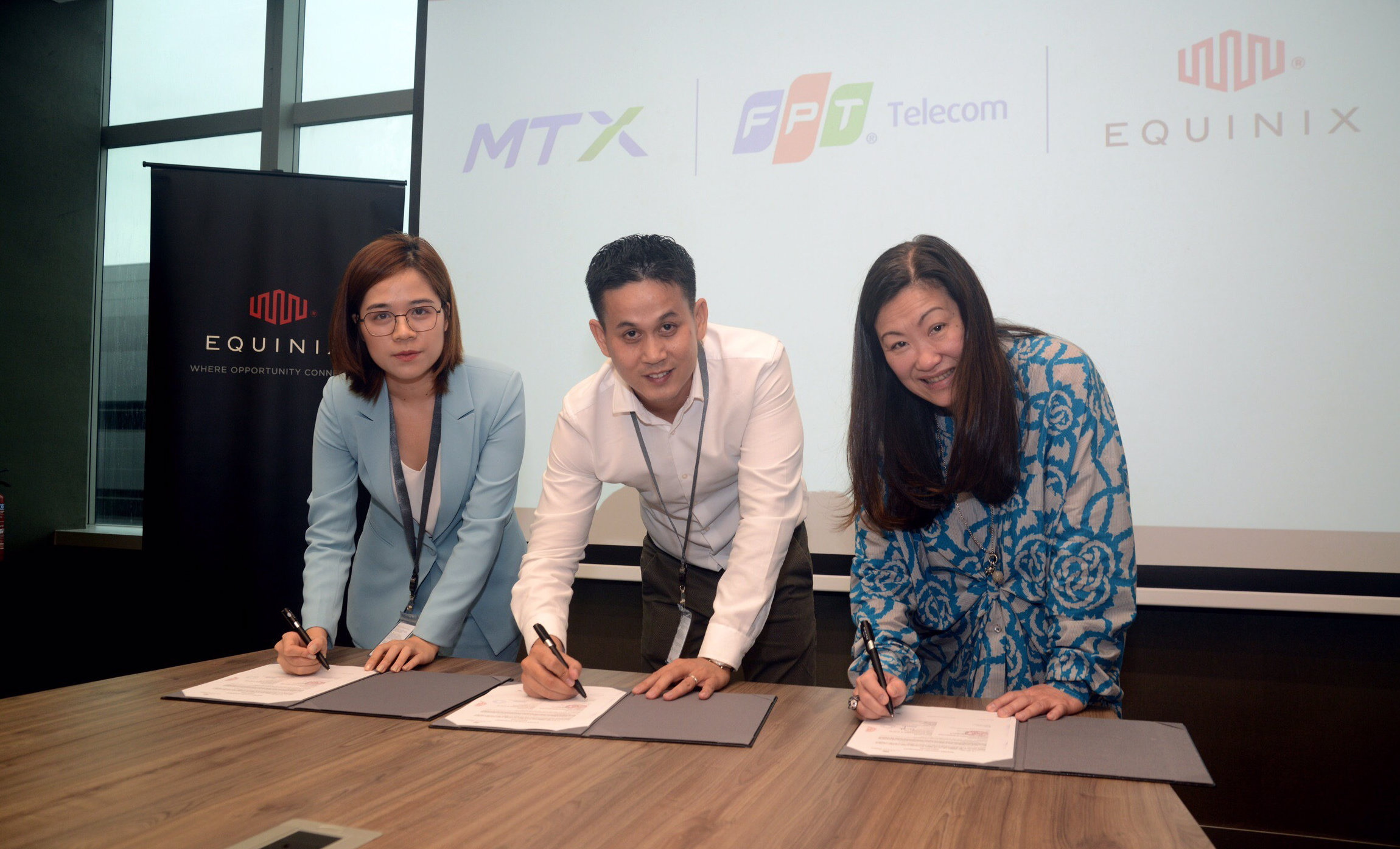 Highlights/Key Facts
• MTX is a cryptocurrency trading platform provider. It offers blockchain-enabled services, including cryptocurrencies exchange, wallet services, Initial Exchange Offerings (IEO), white label portal and more, with a goal to provide both local and global businesses, as well as cryptocurrency traders, a powerful and user-driven network of exchanges to help them grow their businesses.
• Through the combined solution from FPT and Equinix, MTX will be able to achieve High Frequency Trading (HFT) with a 5x increase in cryptocurrency transactions per second, from 1 million to 5 million transactions per second. MTX users will also be able to experience significantly lowered latency for user transactions, with a round trip end-user to use-platform transaction taking just 32-50 microseconds.
• As a long-term partner since 2013, Equinix and FPT have a strong partnership that spans across Singapore, Japan, and Hong Kong. FPT's connectivity solutions, combined with Equinix's global interconnection platform, is able to provide added value via regional connectivity solutions to FPT's customers who are looking to expand their presence into the region. FPT has confidence in Equinix's reputation as the top global data center provider, for a solid partnership that provides FPT's customers with stable, fast and reliable connectivity solutions.
• For over 21 years, Platform Equinix has established the densest ecosystems of cloud and network service providers, digital content and media, financial institutions and enterprises. As companies move towards a multi-cloud, multi-technology and multi-collaboration oriented digital future, Platform Equinix continues to emerge as the crucial interconnection gateway where buyers meet service providers.
• As part of Platform Equinix with more than 200 International Business ExchangeTM (IBX®) worldwide, Equinix Singapore data centers are business hubs for more than 595 companies. This also includes a broad range of network services from more than 200 global networks and more than 150 cloud and IT service providers.
• Equinix has the most network dense data centers in Singapore. Its four facilities are interconnected via low-latency dark fiber links, providing companies with the widest selction of international and regional networks in South Asia.
• Equinix Singapore IBX data centers offer a wide range of connectivity options, including Equinix Cloud Exchange Fabric™ (ECX Fabric™), which allows businesses to set up on-demand and secure connections to more than 1,800 participants across all regions around the world.
Quotes
Ms. Le Phuong Nguyen, Chief Operating Officer, MTX
"With this entry into Singapore, we are hoping that this will pave the way for our expansion plans into Southeast Asia. The combined solutions from both FPT and Equinix provide MTX with the connectivity that allows us to deliver tailored solutions to our customers on a global and local level, which in turn, allows end users to benefit from a much better user experience thanks to the high-quality and seamless services that we bring to the table as a white-label exchange solution provider."
Mr. Pham Duy Phuc, Chief Executive Officer, FPT Telecom International
"Over the years we've witnessed customers demanding for a more comprehensive solution that helps them resolve and improve multiple issues – equipment, configuration and colocation needs. Equinix's global interconnection presence and reputation as the leading data center provider worldwide enable us to address these changing customer needs by providing connectivity solutions on a regional and global scale. We're glad to deepen this strong partnership with Equinix to enable and support the expansion of Vietnamese companies into overseas markets."
 
 
 
Ms. Yee May Leong, Managing Director, Equinix South Asia
"We are proud that our long-term strategic partnership with FPT has enabled its customers expand beyond the Vietnamese market. The success with MTX also demonstrates the importance of a distributed interconnection platform in delivering secure, high-speed and low-latency blockchain services. Our highly advanced IT infrastructure and private connections make Equinix the perfect platform to complement the key attributes of blockchain applications."
 
--------------------------------------------------------------------------------------------------------------

About MTX
Bitsedo Ltd. designs MTX Platform - a white-label Crypto Exchange Solution focusing on delivery an high-end trading platform that features Low Latency, High Security and All-inclusive Trading Systems. We help our clients create modern customer experiences to compete in the blockchain and financial markets - and constantly evolve to respond to change.
 
About FPT
FPT Telecom was founded in 1997 as a group company under the umbrella of FPT Corporation (headquartered in Hanoi; Chairman and CEO: Trương Gia Bình), Vietnam's largest IT conglomerate. FPT Telecom, which is engaged in businesses such as ISP, data center, optical fiber communications (FTTH), and SI, has more than 15,000 companies as customers. FPT Telecom's ISP business boasts the second largest share in terms of subscribers in the Vietnam ISP market (*).
(*)Source: Ministry of Internal Affairs and Communications, "World Information and Communications: Vietnam"
FPT Telecom International Co., LTD, the member company of FPT Telecom, is the company that gives businesses and organizations in Vietnam the power and flexibility to choose the right IT infrastructure and level of managed services to compete more effectively and successfully grow their businesses.
Global Business Center is an international arm of FPT Telecom International who specializes at partnerships with global companies and international carriers around the world.
In cooperation with Equinix, FPT Telecom International is the trusted partner to provide colocation services for Vietnamese businesses and enterprises who want to reach their global customers.
 
About Equinix
Equinix, Inc. (Nasdaq: EQIX) connects the world's leading businesses to their customers, employees and partners inside the most interconnected data centers. On this global platform for digital business, companies come together across more than 50 markets on five continents to reach everywhere, interconnect everyone and integrate everything they need to create their digital futures. Equinix.sg